Alumni Spotlight:
Ryan Slattery '12
September 22, 2022
Name: Ryan Slattery
Hometown: Houston, Texas
Major: Master of Architecture
Graduation Year: 2012
Current Employer: Harris County Flood Control District
Title: Resilience Division Manager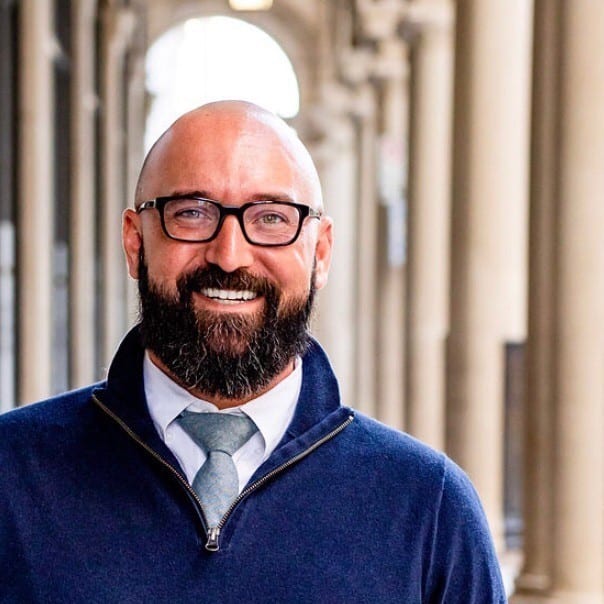 Why did you choose the Gerald D. Hines College of Architecture and Design? What drew you to design?
When I decided to go back to school to study architecture, my mom's reaction was fitting – "Well, it's about damn time!" Growing up, I was always doodling. I started with Calvin and Hobbes comic strips and quickly moved on to anything Frank Lloyd Wright. Like with all things, though, life happens. I studied liberal arts as an undergraduate and went on to work in politics.
In 2010, I felt it was time to revisit my career trajectory. Houston is my home; it is the community I served for almost a decade, and it is the community I want to continue serving. The University of Houston is Houston. I visited UH, met Cord Bowen, and was sold! Cord emphasized that the doodling, which used to get me in trouble as a kid, would be encouraged! "Keep sketching. Your ordinary ideas are the ones closest to your fingertips. Keep sketching to get them on paper and out of your brain to make room for the really great ideas." I have not looked back since.
What is one of your favorite memories from your time on-campus? Was there a particular professor who influenced your education?
I look back on the first day of my second year and always smile. As a graduate student with a liberal arts undergraduate degree, my first year was with other students coming to architecture as a blank slate. In the second year, we were introduced to new studio mates joining the program with architecture backgrounds. That first day, we truly saw how far we had progressed on our design journey. Our new studio was filled with the most unique collection of humans I have ever been a part of and is a group on which I still rely today.
As far as professors go, I have already mentioned Cord Bowen (who would be my level one studio professor, along with Patrick Peters). Matt Johnson and Jason Logan were remarkable influences, teaching me that inspiration can, and should come from, any and everywhere. Nora Laos is the reason why I hug architecture anywhere I travel; however, Rafael Longoria – either by design or by accident – introduced me to the idea of designing cities! My study abroad in Barcelona, Spain, would be a turning point in my education.
I was able to curate my education to that point by taking electives focused on community design, the history and future of affordable housing, and other areas of study where politics and design hold hands, but Cerda and his Eixemple captivated me. Cerda took a comprehensive look at how people lived in cities. He spatially mapped services people need – grocery stores, shops, schools, and healthcare. He devised solutions for traffic, access to natural light and green space, and city services like trash collection. He even calculated the volume of air a person needed to breathe correctly. Who does that?! He also attended council meetings to advocate his position. My time with Professor Longoria in Barcelona was the first time I did not feel like I was starting over. Instead, he helped me find a path melding the things I love – civic engagement, good planning, and design.
What does a typical day look like in your job? Do you have a particular design or business philosophy?
I work for the Harris County Flood Control District as the Resilience Division Manager. The Resilience Division is responsible for planning and implementing an equitable flood resilience strategy, and we will be responsible for advancing the Flood Resilience Plan.
While there is no "typical" day, collaboration is a common thread. No decision is made on an island, and I have a great deal of respect for varying perspectives and new ideas. This daily approach is my core philosophy – work together to accomplish really big things.
"When I decided to go back to school to study architecture, my mom's reaction was fitting – 'Well, it's about damn time!' Growing up, I was always doodling."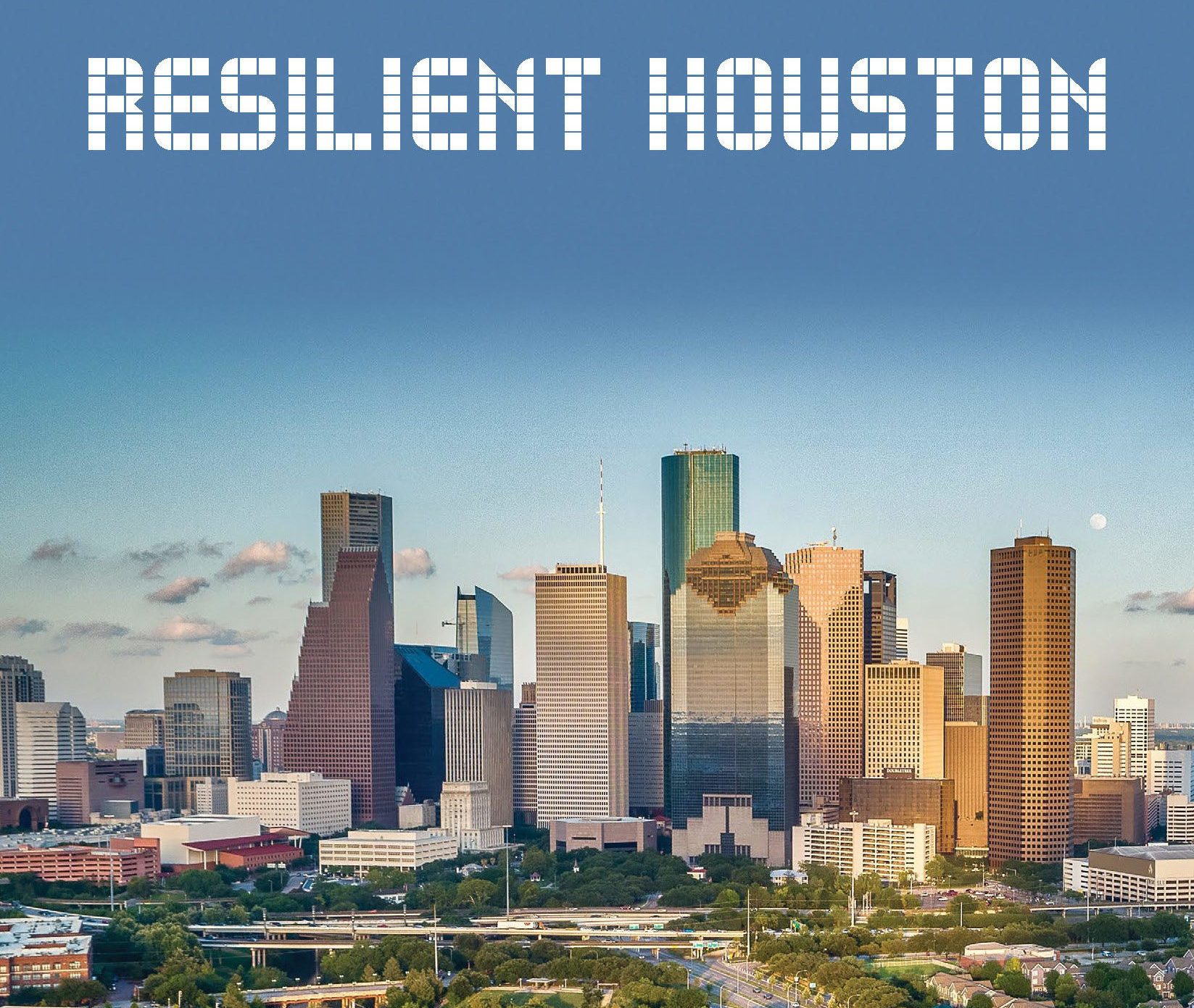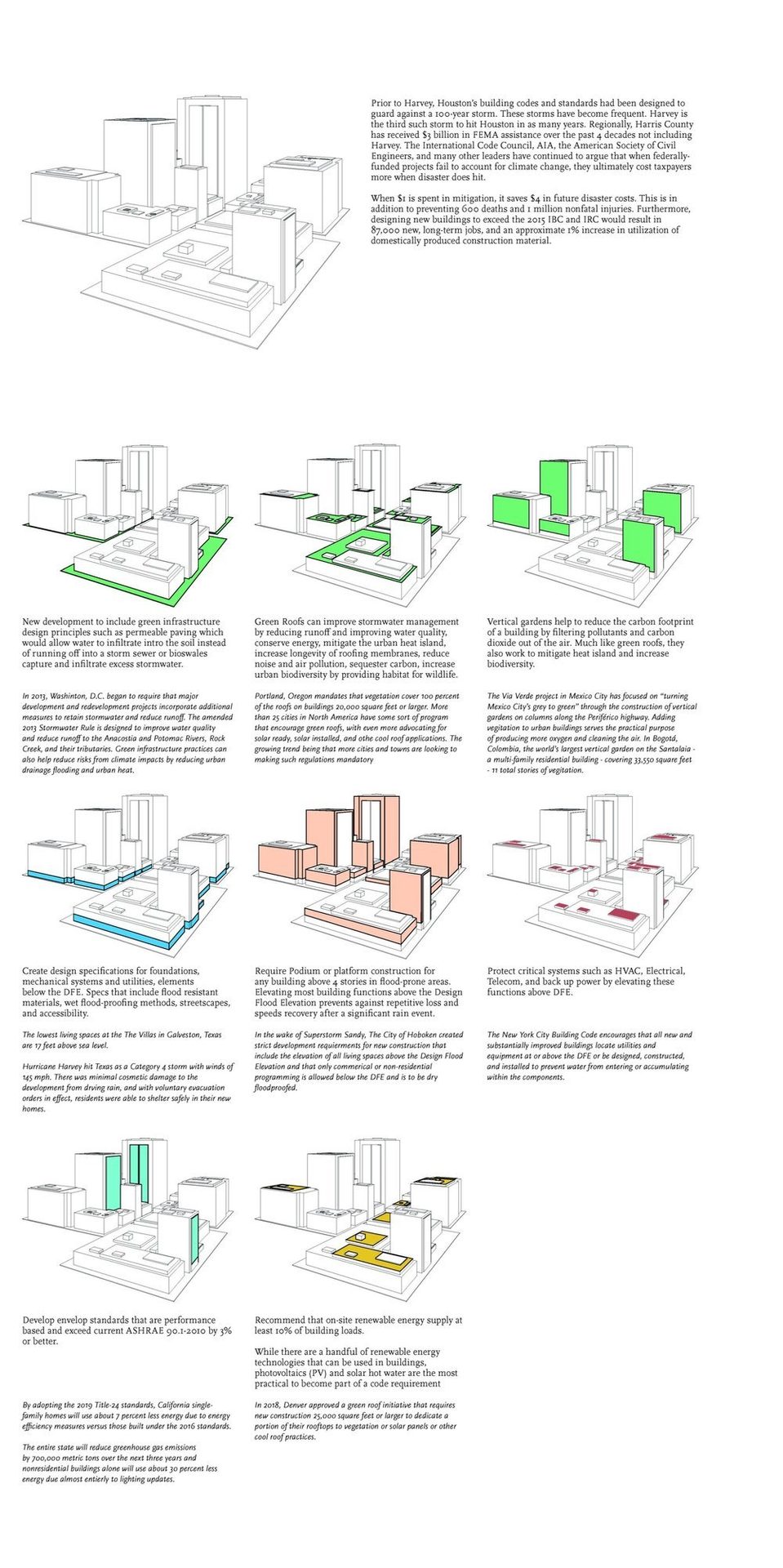 ABOVE: Resilient Houston Cover—the City's resilience strategy, was released on February 12, 2020 and provides a framework for collective action for the city to protect Houston against Future disasters; Resilient Construction Code opportunities presented as part of Houston 2020 Visions - A year-long, open call for visions seeking creative and innovative ideas for how to rebuild a better city, one that protects the health and wellbeing of people, grows sustainably, and supports a strong economy.
What is one career accomplishment of which you are particularly proud? How do you feel the College prepared you for this?
Before my current post, I was with the City of Houston in the Mayor's Office of Recovery. At the City, I was given the opportunity to be a part of some ambitious work reshaping the city and how it equitably responds to adversity.
Being part of how Houston, and the region, recover from disasters while focusing on future resilience has been an incredible journey. While by no means complete, this work has come along with some accomplishments of which I will always be proud, including being a part of the development and initial implementation of Resilient Houston. When I joined the City of Houston in 2019, the City had just begun developing a comprehensive resilience strategy. Developing a framework for how Houston can be a more green, resilient, and equitable place that is better prepared for the shocks and stresses that come along with being a large coastal community was remarkably rewarding.
The Hines College prepared me to contribute to those significant systems-level planning processes. Resilient Houston linked everything I cared about professionally – community engagement, policy, sound design, and thoughtful planning. Finding that space for myself was a huge accomplishment.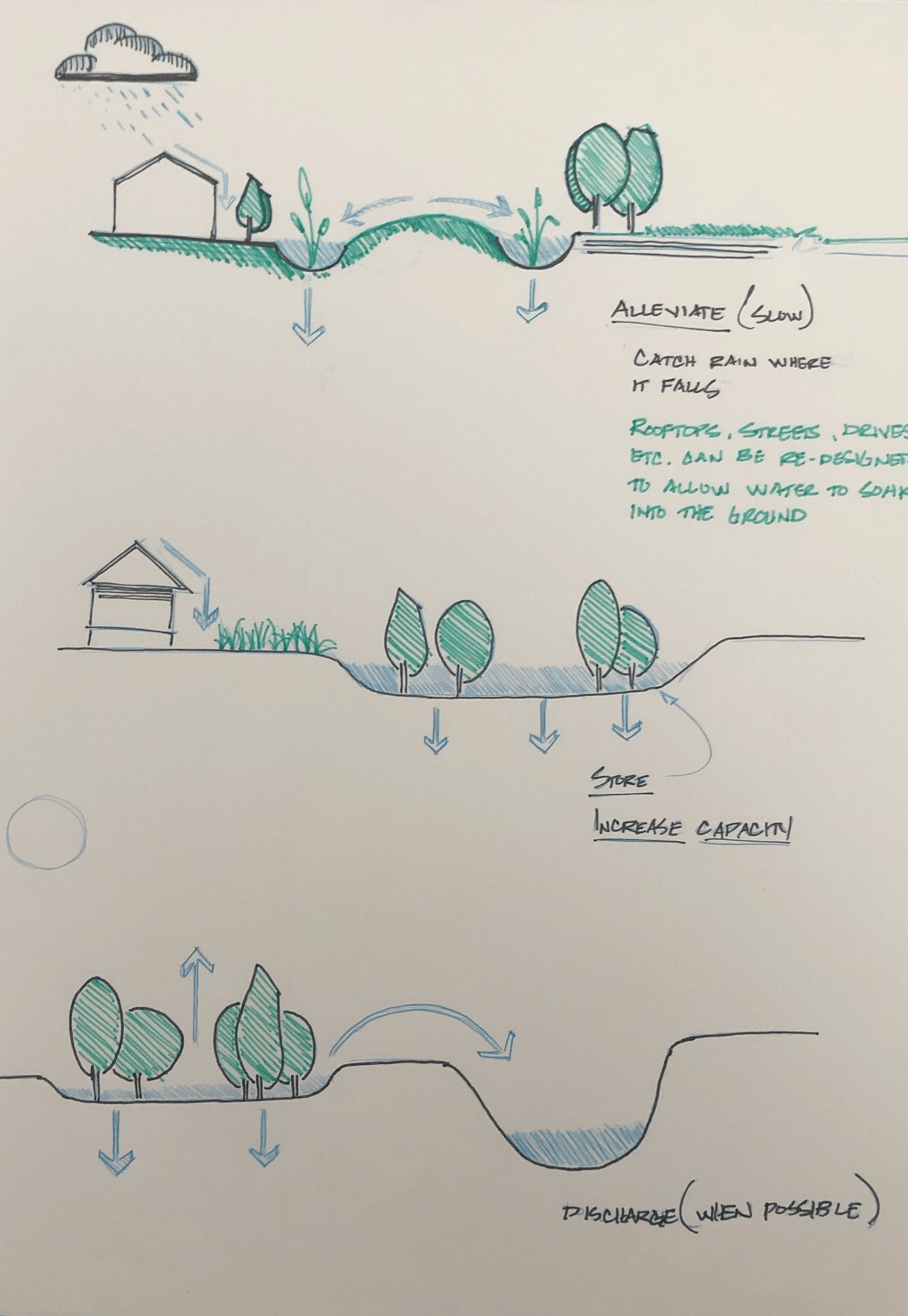 Above: Sketch of flood mitigation strategies
Top to bottom: Miniature mock-up built during the Construction Documents phase. The mock-up was used to refine details; Current picture of the construction site.
What is one valuable lesson you learned during your time at the Hines College?
In politics, there is an almost crippling fear of being wrong – saying the wrong thing, taking the wrong position – to the point of inaction. My time at UH taught me the value of being wrong and how to embrace those opportunities to learn. Design is iterative. Just like your ordinary ideas are the ones closest to your fingertips, so are your bad ideas or misconceptions. Collaborative design is a conversation. And part of that conversation is realizing you do not have all the answers.
What piece of advice would you give to current architecture and design students?
Listen more than you speak. Use four words instead of seven.
Love something more than you love any job.
More College of Architecture and Design Stories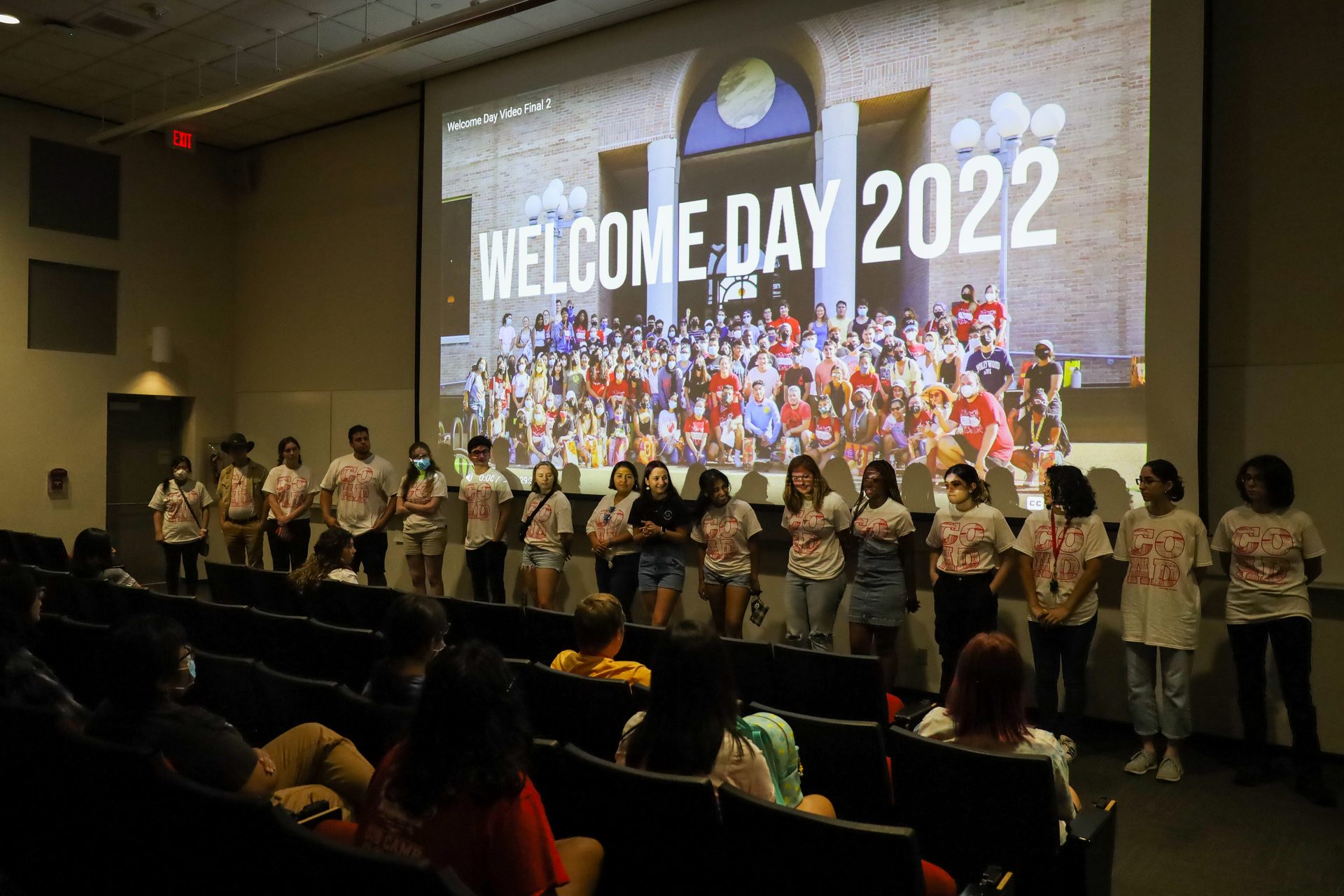 Students Lead Annual Welcome Day Tradition
Hines College student organizations prepare incoming students for a new year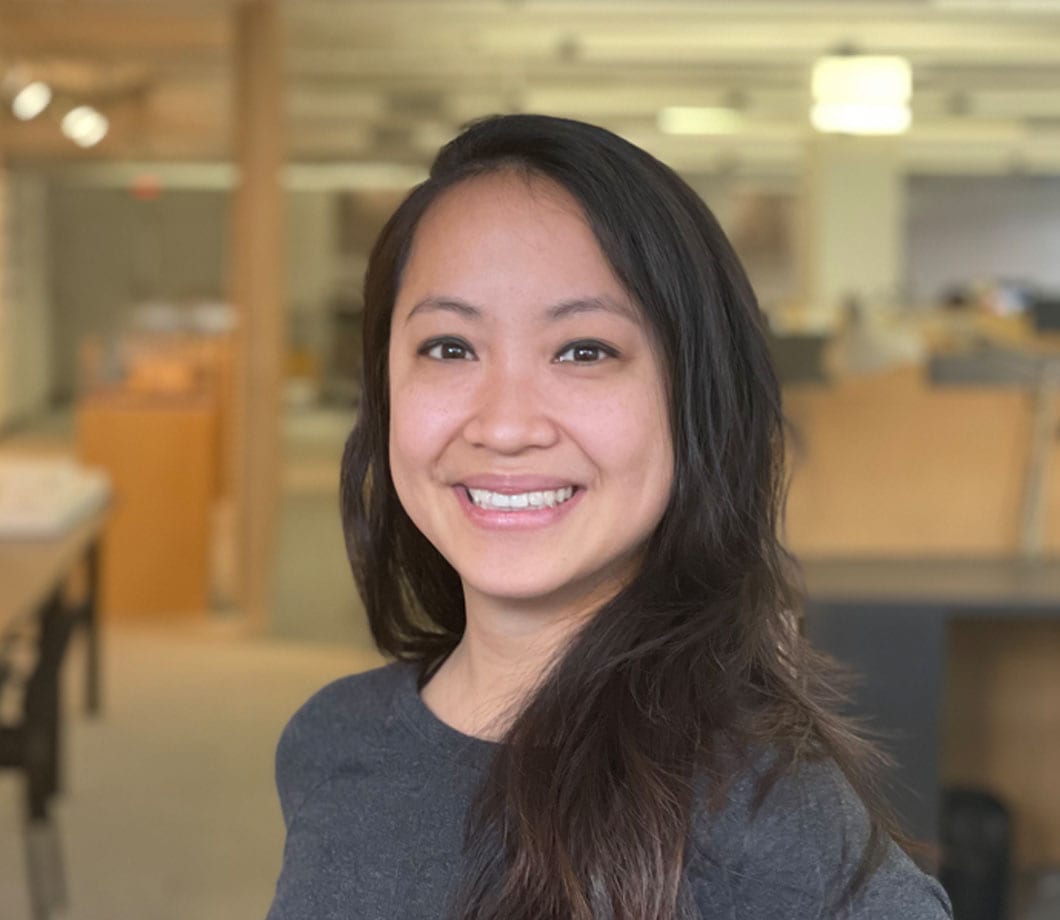 "My academic experiences at UH opened up opportunities for me I could have never imagined, and I'm grateful to have had such dedicated professors along the way."