Design Communication Association Features Hines College Students and Faculty for Annual Exhibition and Conference
Projects aim to connect with designers and educators speaking visually
by Symone Daniels • October 10, 2022
Last week, the Design Communication Association (DCA) released selections for its 2022 DCA Juried Design Communication Exhibition as part of the 2022 DCA Biannual Conference. Among 175 total submissions, University of Houston Gerald D. Hines College of Architecture and Design students and faculty are among the 69 entries selected for the exhibition. DCA is a professional organization consisting of professors from different architecture schools, interior designers, and graphic designers, aiming to support educators, teach, and promote design communication to students.


Inventory + Reveal La Biennale Di Venezia
By Brent Montero, Rohini Nair and Antonette Serafin
After being tasked to visually represent the Venice Biennale for a class project, Brent Montero, Rohini Nair, and Antonette Serafin sought to create a specific theme connecting the biennales through time and using it to predict the future of architecture. The trio joined forces because their experience in studio together made them comfortable with each other's work ethic.
"While researching the biennales, we found out it had one of the oldest running exhibitions, which we found intriguing," shared Nair. "There was a lot of data we could present in the timeline."
Since 1895, the Venice Biennale has been an art and cultural exhibition hosted annually in Venice, Italy, by the Biennale Foundation. By recreating this theme, the group wants viewers to understand their narrative.
"When going through all this information, we wanted to focus clearly on technological advancements and environmental awareness within architecture from the start of the biennale to the present day," said Montero. "Hopefully, by understanding that trend, maybe we can provide some undertone on what comes next,"
Not only did the group enjoy the design challenge, but it allowed them to expand on their skill set and knowledge about design commutation.
"I think we saw it as a challenge because it was something we were trying to work on in our studios, as well as how to visually represent things, especially early on in schematic design," Serafin explained.
The group's professor, Roya Plauche' hopes her students inspire others taking part in the conference this year.
"The exhibition is mainly about academics and teaching," Plauche' shared. "I always find it a great learning experience to see what your peers and colleagues are doing and working on."
Light Pollution
By Angel Presas
Light Pollution is a Voronoi representation of the amount of artificial light contained in the atmosphere and preventing the general population of the United States from viewing the pure beauty of stars at night. The map indicates areas emitting artificial light as red dots on the map with a radius depicting its zone of effect while also linking to their nearby areas.
"Since I was young, I was enamored with how breathtaking the sight of hundreds of stars and sometimes planets are above us, along with a perspective of how significant and insignificant we are in this infinite cosmos," explained Presas. "It was highly disappointing to know that to observe the stars, one would have to drive so far out of the city where artificial light does not contaminate the sky," she explained.
Presas hopes this project highlights the effect of this type of pollution and how, despite everything, the universe is beautiful. She wants her project to serve as a reminder of our impact on the environment.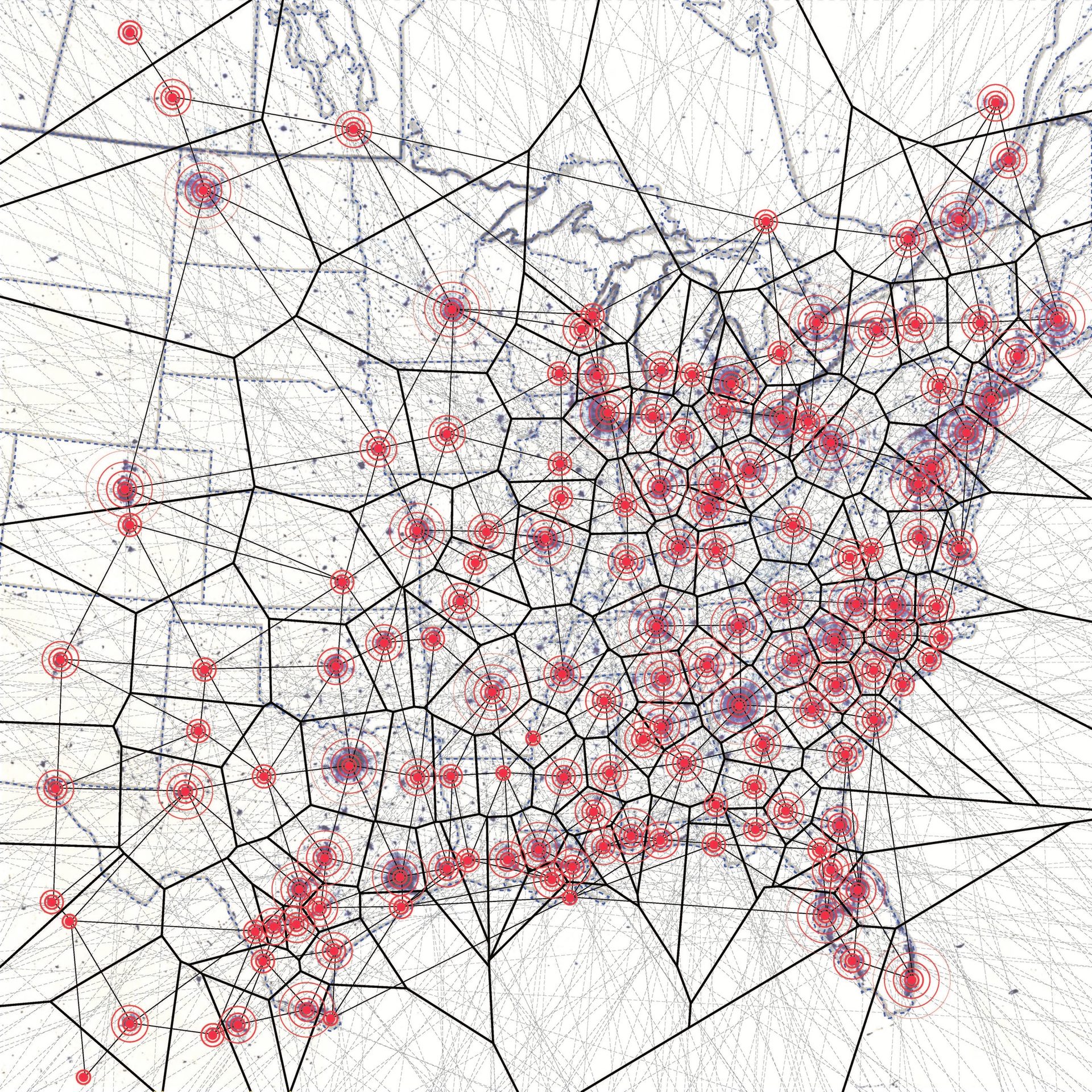 Puzzle House
By Ross Wienert
Puzzle House, located in the Houston Heights, is a collaboration between CONTENT Architecture and a family of four. The inspiration for the drawing developed from two large oak trees playing a significant role in the design of the house.
"The drawing showcases how the lines form a path for someone walking the sidewalk toward the house," explained Wienert. "It then moves up the staircase to the second floor and then to the primary bedroom,"
Wienert entered the drawing because he thought it would be a fun and creative way to represent a non-conventual drawing.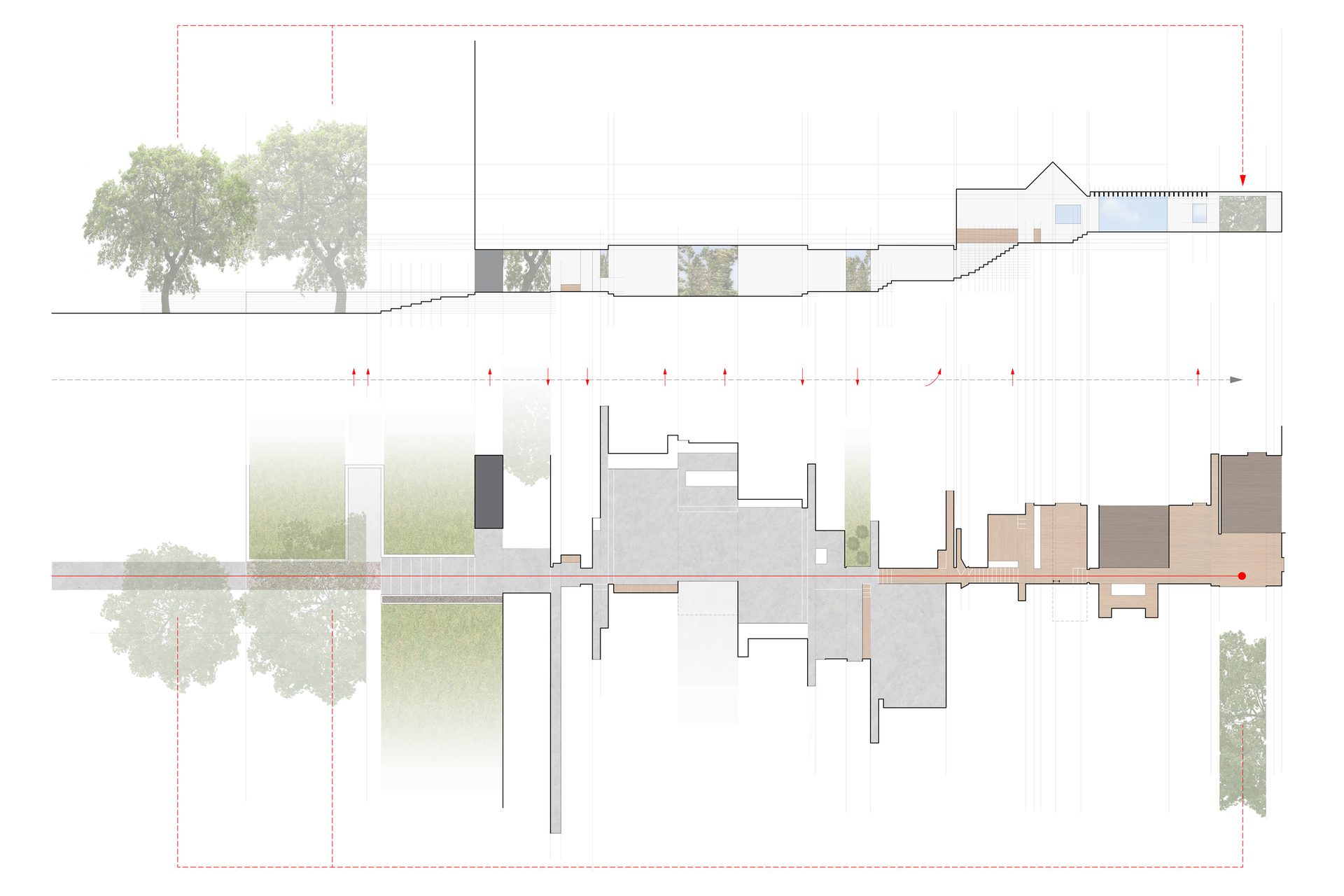 Low Fidelity
By Asia Nolan
Low Fidelity is a timeline used to show the trials of main charters in the popular anime show Demon Slayer. Nolan hoped to showcase how each character develops throughout each episode.
"Every dip you see is the mood of the episode and its characters," Nolan shared.
Demon Slayer is a Japanese anime series written by Koyoharu Gotouge. The show follows Tanjiro Kamadi, who sets out to become a demon slayer to transform his sister, turned into a demon, back into a human. Nolan chose to pay homage to Demon Slayer because the art style and the show's intensity captivated her attention. Nolan hopes her visuals will evoke a feeling from the colors and types of lines used. She also recommends watching Demon Slayer for a deeper understanding of her timeline.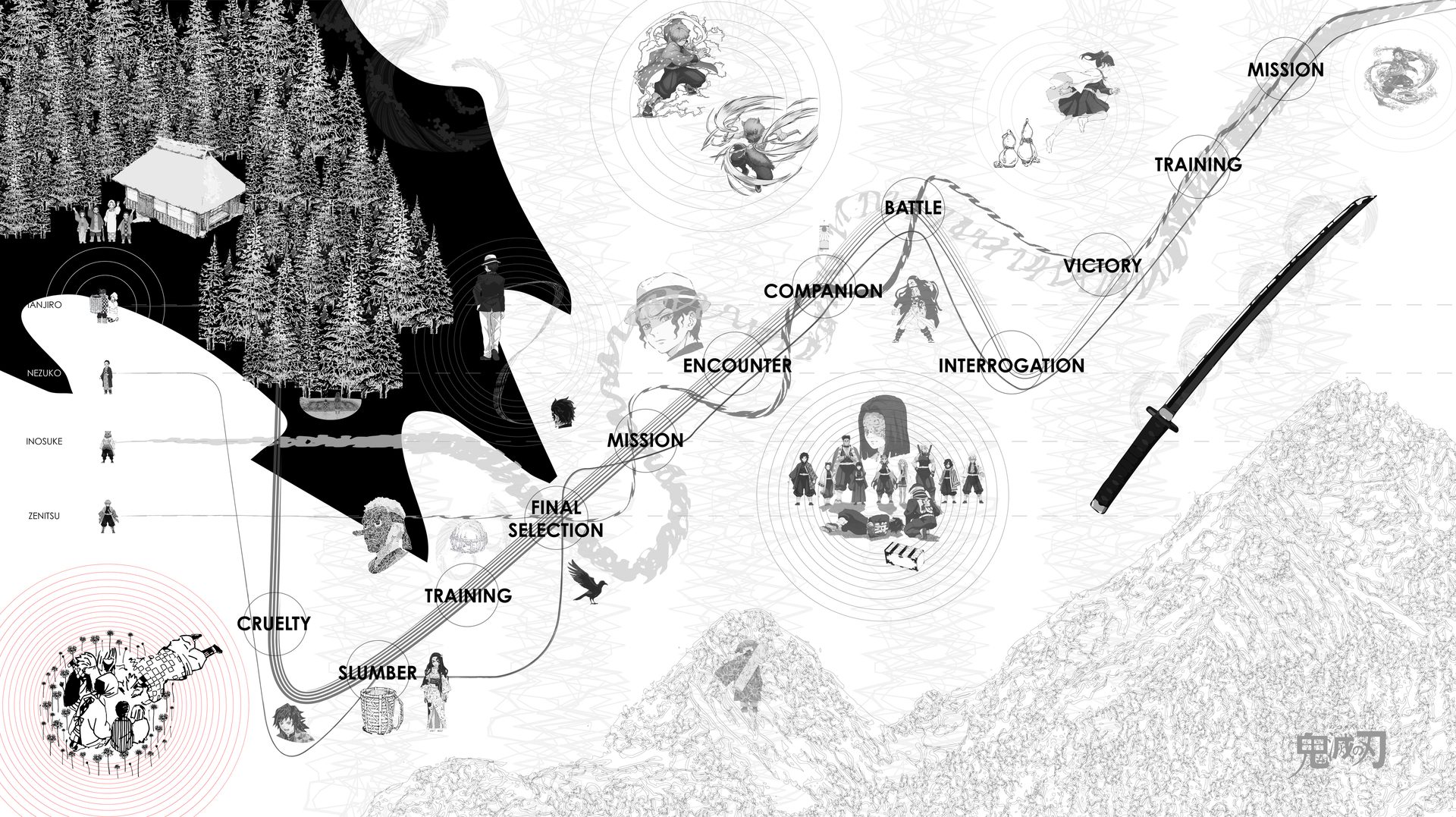 Voronoi Drawing: Where's Waldo?
By Kai Wen Chua
From a class exercise applying the Voronoi system, Kai Wen Chua created Voronoi Drawing: Where's Waldo?, inspired by pages from the popular Where's Waldo books. The Voronoi system defines space in a way revealing latent characteristics in imagery and follows logic defined by the designer.
The rules for the placement of the points, cells, and other graphic additions vary. Still, in all cases, they are applied consistently across the entirety of the image to map out specific characteristics and create a visual language. These drawings are intended to take something implied within an image and make those characteristics explicit.
"The intention behind Where's Waldo is to locate Waldo from the points and cells created by the bisectors," said Chua. "In this form, there were three layers of Voronoi Diagrams helping to pinpoint the location. Each layer signified Waldo's signature look: a red striped shirt, blue jeans, and round glasses. When the cells of all three layers overlap, Waldo can be found."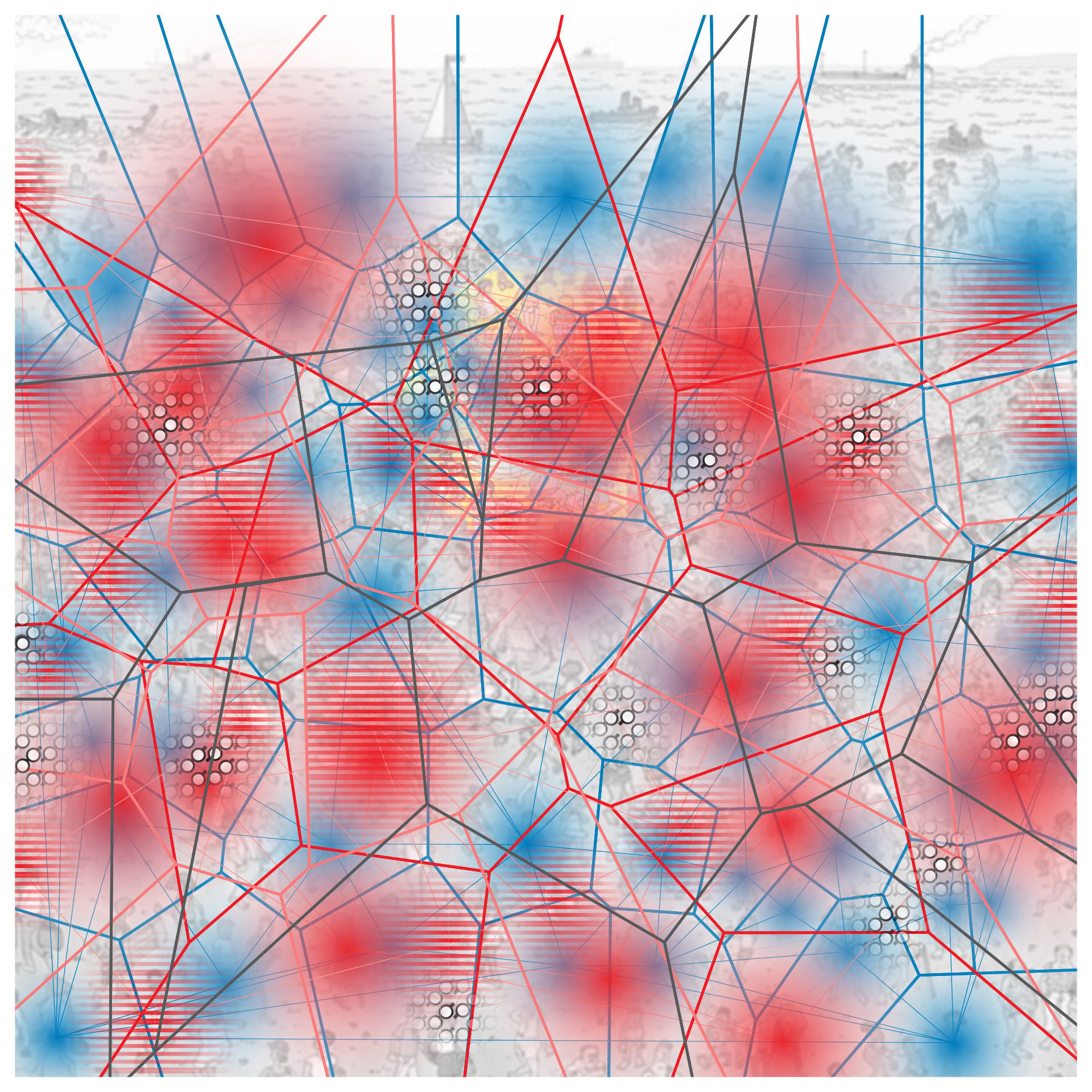 A Bosnian Folktale
By Michelle Ovanessians and Bruno Xavier
Defining Space and Mirror
By Kim Sao and Blake Wilcox
Both of these projects resulted from a spring 2022 ARCH 5500 studio. Professor Dijana Handanovic challenged students to analyze the cultural and social significance of the brutalist architecture produced in former Yugoslavia and how the significance changed after its dissolution. From there, they were tasked with answering what architecture's role in society is and how architecture can help promote productive dialogue and offer a solution through an urban intervention.
The drawings represent a small part of the research and interventions proposed by the two teams. Handanovic wanted to push the students outside of their comfort zones.
"I think reaching out and learning from different cultures and traditions is important for our growth," shared Handanovic. "To propose a project in a different country, you must immerse yourself in it and try to learn as much as possible. We could not physically travel to Bosnia, but the students did their best to immerse themselves into the culture by utilizing articles, interviews, and discussions."
A Machine for Drawing: Process and Artifact
By Michael Gonzales and Meg Jackson
Fueled by their interest in traditional drawing and computation, professors Michael Gonzales and Meg Jackson submitted a paper about their advanced digital vocabularies class, focusing on the creation of drawing machines. Traditional drawing focuses on pressure and speed, while digital drawing can become flattened.
"We thought about how we can use computation as a way to bring some life and nuance back into the drawing," said Gonzales.
Drawing by hand is extremely important, although many disciplines are adapting to computer drawings and digital media. Jackson believes that by practicing both drawing by hand and drawing using technology, students gain a deeper level of understanding.
"By doing these kinds of hybrid situations, where you are actually looking at how something draws, you can understand how the computer draws," explained Jackson. "When you can make that connection, you then have more control over the software."
The 2022 DCA Juried Design Communication Exhibition is being held in conjunction with the 2022 DCA Biannual Conference hosted by Auburn University from October 5-8, 2022. The Hines College's work will be displayed during the conference and published on the DCA website.
More College of Architecture and Design Stories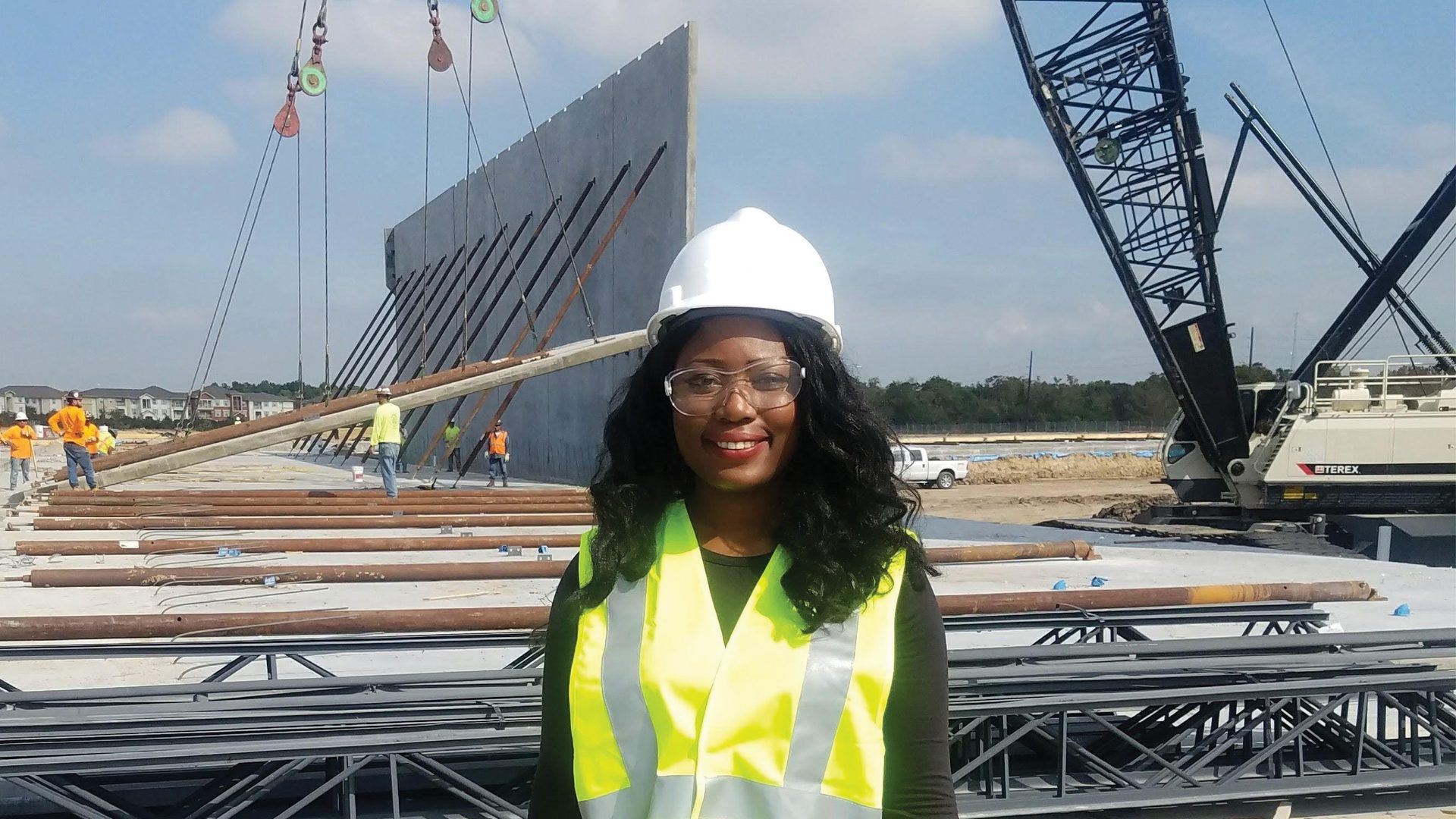 McLemore hopes recognition inspires aspiring future architects of color